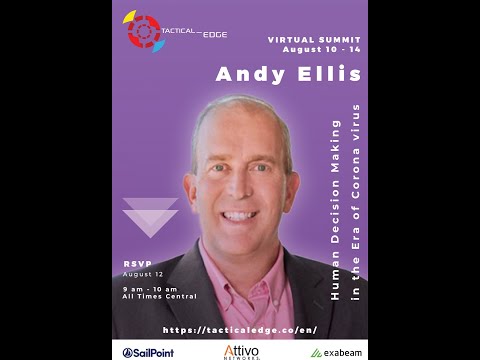 description
In this talk, I will be taking a lot of the things I've learned over the last 20 years about how humans make decisions about risk, and examining those through the lens of the reactions to COVID-19.
Featuring
Former CSO at Akamai, Cyber Security Advisor, and Expert in Risk Decision Making
Fees
Local:

$10,001 - $20,000*

US East:

$10,001 - $20,000*

US West:

$20,001 - $35,000*

Europe:

$20,001 - $35,000*

Asia:

$35,001 - $55,000*
With a career devoted to understanding how humans make risk decisions, Andy Ellis is a seasoned technology executive with deep expertise in security. An advisor to several cyber security startups, including Orca, Vulcan, and Uptycs, he currently serves as an advisor at cyber security venture capital firm, YL Ventures. Ellis formerly served as the chief security officer of web and internet security company Akamai. In his 20 years with Akamai, he helped to design and bring to market several of the company's core technologies behind its security solutions. Combining more than 20 years of security experience with insider anecdotes from his time serving as CSO, he explores how and why humans make risk choices and decisions – and their impact on security.