Blake Morgan - Keynote Speaker - Customer Experience - Speaker Reel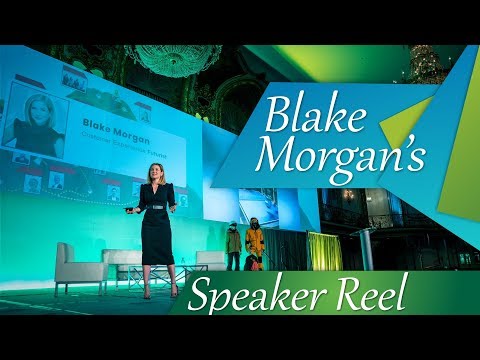 description
Blake Morgan is a leader in customer experience. She is a keynote speaker and customer experience futurist and author of two books on customer experience. Her second book is called "The Customer Of The Future: 10 Guiding Principles For Winning Tomorrow's Business" (HarperCollins). Her first book was "More is More: How The Best Companies Work Harder And Go Farther To Create Knock Your Socks Off Customer Experiences." She has worked with Comcast, Allstate, Genentech, Accor Hotels, Accenture, Adobe, Parker Hannifin, Ericsson, Verizon, Omron and more. Blake is a guest lecturer at Columbia University as well as adjunct faculty at the Rutgers executive education MBA program. Blake contributes to Forbes, the Harvard Business Review and Hemispheres Magazine. She is the host of The Modern Customer Podcast and a weekly customer experience video series on YouTube. She lives in the Bay Area with her husband, daughter and their two dogs. For bookings email her Blake@blakemichellemorgan.com or call 347 907 0968.
Featuring
Customer Experience Futurist, Author, & Keynote Speaker
Fees
Local:

$35,001 - $55,000*

US East:

$35,001 - $55,000*

US West:

$35,001 - $55,000*

Europe:

Please Inquire

Asia:

Please Inquire
Blake Morgan was called "The Queen of Customer Experience" by Meta.She's the author of two books on customer experience. Most recently, her bestselling book, The Customer Of The Future (HarperCollins), was identified by Business Insider as one of the "top 20 books executives are reading to deal with COVID-19." She was called a "top 40 global female keynote speaker" by Real Leaders Magazine. In addition to being a sought-after speaker and bestselling author, Morgan is the host of "The Modern Customer Podcast,"