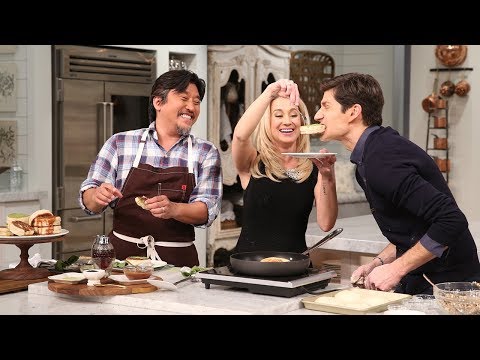 description
Celebrity chef Edward Lee from Top Chef is making Korean Donuts from his new memoir and cookbook Buttermilk Graffitti. Get the full recipe: Pickler & Ben is an hour-long, multi-segmented lifestyle talk show filmed in Nashville and hosted by country star Kellie Pickler — known for her quick-wit and bubbly personality — and journalist Ben Aaron, a funny, curious, and good-natured New Yorker. Find out where to watch: Follow us! Facebook: Twitter: Instagram: And don't forget to check out for teaser clips, show info and a whole lot of fun!
Featuring
Award-Winning Chef, Author, and Culinary Director of Succotash
Fees
Local:

$10,001 - $20,000*

US East:

$10,001 - $20,000*

US West:

$20,001 - $35,000*

Europe:

Please Inquire

Asia:

Please Inquire
Edward Lee is the chef/owner of 610 Magnolia, MilkWood, and Whiskey Dry in Louisville, Kentucky, author of Smoke & Pickles and Buttermilk Graffiti, and culinary director of Succotash in National Harbor, Maryland, and Penn Quarter, Washington, DC. He appears frequently in print and on television, including earning an Emmy nomination for his role in the Emmy Award–winning series The Mind of a Chef. Most recently, he wrote and hosted the feature documentary Fermented.