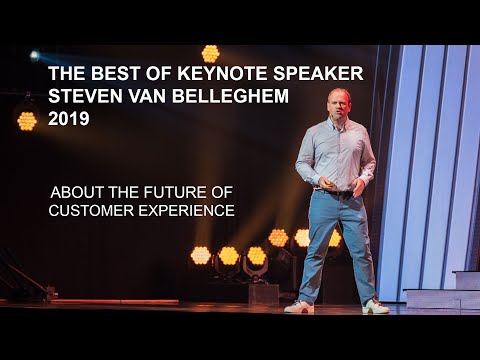 description
Welcome guys! This video features the best scenes of Steven Van Belleghem's 2019 keynotes on the future of customer experience. Enjoy! 1. What if the customer is no longer part of the customer journey? - 00:04 2. Escaping the bubble to understand customer value - 02:03 3. Content streaming war: Netflix vs. Disney - 05:44 4. Discovering new companies: Toutiao - 06:59 5. The easy years of digital are over - 09:17 6. The evolution of work - 12:45 7. How Walmart is fighting back against Amazon - 14:07 8. The fantastic digital mindset of Domino's Pizza - 16:26 Don't forget to subscribe if you are interested in more content on the future of marketing & technology!
Featuring
Best-Selling Author, Professor, Expert on the Future of Marketing and Customer Relationships
Fees
Local:

$20,001 - $35,000*

US East:

$20,001 - $35,000*

US West:

$20,001 - $35,000*

Europe:

$20,001 - $35,000*

Asia:

$20,001 - $35,000*
Steven Van Belleghem is a thought leader on the transformation of customer relations and the future of marketing. In 2012, Steven founded the inspiration company B-Conversational. He gives strategic advice to companies around the globe, helping them better understand the world of conversations, social media and digital marketing. In addition, he also helps clients set up long-term inspirational programs to change the mindset and enrich the knowledge of their teams. Steven started his professional career in 2000 as a research assistant at the Vlerick Business School, where he remains a guest marketing professor to this day. He is an expert in guiding companies through the smart usage of technology in the customer relationship, without forgetting the human side of business. In 2001, Steven became one of the first employees to join InSites Consulting, an innovative start-up in the online research industry. Over the next eleven years, he worked his way up to become one of the company's managing partners and shareholders. During this period, the company grew from just 8 staff to 130 with branches in 5 countries. Steven is a best-selling author of business books. His latest, titled "When Digital becomes Human" (2014), describes the need to digitise the customer relationship without forgetting the human aspect. He believes that today's world not only needs a digital transformation; the human side of business is also in need of a makeover. His two previous books, "The Conversation Manager" (2010) and "The Conversation Company" (2012), are award-winning best-sellers with more than 50,000 copies sold.