Greg Schwem Hilarious Corporate Humor Sizzle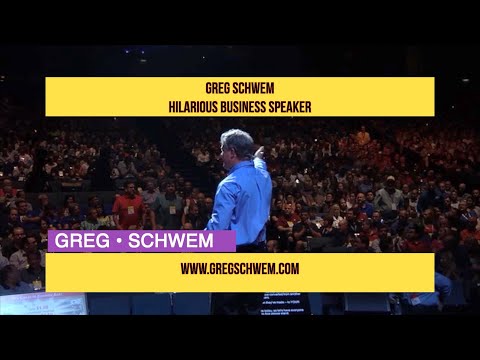 description
In this video, we get a sneak peek at corporate humorist, Greg Schwem's, corporate humor sizzle reel. Greg is your one and only choice when it comes to providing laughs, motivation, and wellness at corporate events. Schwem is a big believer in making people laugh about business.
Greg's two keynotes—"Work, Laugh, Repeat" and "Rock, Roll & Laugh Your Way to the Top"—provide hilarious looks at today's corporate environment and the latest tools used to conduct business. Indeed, Greg's client list includes such corporate heavyweights as McDonald's, Microsoft, General Motors, IBM, Hyatt Hotels, United Airlines, and Cisco Systems. What sets Greg apart from other corporate entertainers is his ability—and willingness—to customize material for his audience while working within the parameters of the corporate environment. That means no profanity or politically incorrect material. "That's never been a part of my show anyway," Greg recently told a reporter.
When Greg hits the stage he already has perused the company's Internet site, combed the internal message boards and even sifted through numerous PowerPoint presentations. "There is no such thing as too much information," Greg says. "I know corporate audiences like to laugh at themselves so the more ammunition I get, the funnier it will be. Just don't give me a 10-K report. There is NOTHING funny about that."
Featuring
Comedian, Corporate Humorist, Author, & Nationally-Syndicated Humor Columnist
Fees
Local:

$10,001 - $20,000*

US East:

$10,001 - $20,000*

US West:

$10,001 - $20,000*

Europe:

Under $10,000*

Asia:

Please Inquire
With hilarious observations, clever wordplay, and just the right amount of snark, corporate comedian Greg Schwem proves there's always a place for comedy in the workplace. He's been called "America's favorite corporate funnyman" and "king of the hill" of the growing corporate comedy world.