Myron Rolle: NFL to The Front Lines Of The Coronavirus Fight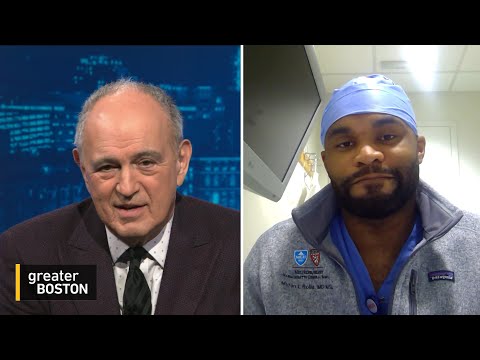 description
Dr. Myron Rolle is a Rhodes Scholar, and former NFL safety, and now a doctor in his third year of a neurosurgery residency at Mass General Hospital, working on a floor at the hospital that's been turned into a dedicated wing for patients with coronavirus. He joined Jim Braude to discuss the ongoing pandemic response as state officials announced Tuesday that an additional 33 people had died from COVID-19, bringing the total of fatalities in the state to 89.
For more information regarding Dr. Rolle, shoot us an email, livechat with a member of our sales team, or give us a call at 1-800-SPEAKER. 
Featuring
Former NFL Player, Neurosurgeon, and Humanitarian
Fees
Local:

$20,001 - $35,000*

US East:

$20,001 - $35,000*

US West:

$20,001 - $35,000*

Europe:

Please Inquire

Asia:

Please Inquire
As a young man, Dr. Rolle hopes to be an inspirer of dreams, an educator of purpose, a patient centered healer and a leader for many. Sports enthusiasts and intellectuals alike know Dr. Myron Laurent Rolle as a gifted athlete, scholar and philanthropist. As a graduate medical student at the FSU College of Medicine and neurosurgery resident at Harvard/Massachusetts General Hospital, Dr. Rolle is achieving his dream of becoming a doctor and hoping to inspire others as well.