Rep. Joe Kennedy III gives Democratic response to State of the Union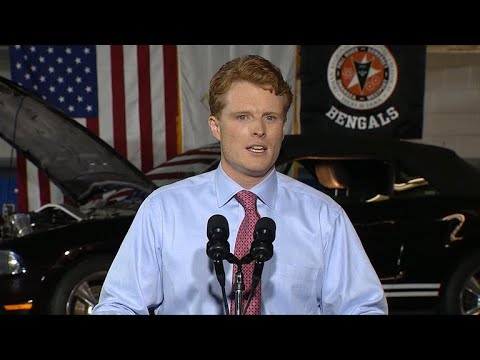 description
Rep. Joe Kennedy III gave the Democratic response to President Trump's State of the Union address Tuesday. He accused the Trump Administration of diving America stating "for them, dignity isn't something you're born with but something you measure -- by your net worth, your celebrity, your headlines, your crowd size." Watch his full remarks. Subscribe to the CBS News Channel HERE: Watch CBSN live HERE: Follow CBS News on Instagram HERE: Like CBS News on Facebook HERE: Follow CBS News on Twitter HERE: Get the latest news and best in original reporting from CBS News delivered to your inbox. Subscribe to newsletters HERE: Get your news on the go! Download CBS News mobile apps HERE: Get new episodes of shows you love across devices the next day, stream CBSN and local news live, and watch full seasons of CBS fan favorites like Star Trek Discovery anytime, anywhere with CBS All Access. Try it free! --- CBSN is the first digital streaming news network that will allow Internet-connected consumers to watch live, anchored news coverage on their connected TV and other devices. At launch, the network is available 24/7 and makes all of the resources of CBS News available directly on digital platforms with live, anchored coverage 15 hours each weekday. CBSN. Always On.
Featuring
U.S. Congressman of Massachusetts 2013-2021, U.S. Special Envoy to Northern Ireland
Congressman Joseph Kennedy III has dedicated his career to social and economic justice, fighting for the basic needs of every American family and a political system that is inclusive, representative, and fair. The U.S. Representative for Massachusetts's 4th congressional district from 2013-2021, he ran for office to tackle the systemic inequities – from health care and housing to climate and education – that have left countless American families locked out and left behind. Kennedy's presentations address the latest in politics and what's next for the political landscape. Well-versed on the most pressing issues of the day, he provides an insider's look at current events and takes a thoughtful approach on how they may impact the country's future. With a constant focus on the most vulnerable among us, Kennedy brings a uniquely empathetic voice to our nation's most vexing challenges.