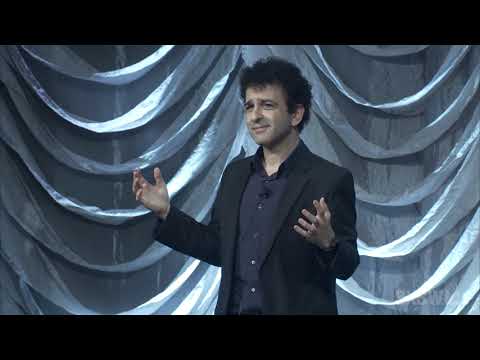 description
Why do good teams kill great ideas? When does the wisdom of crowds become the tyranny of crowds? LOONSHOTS reveals a surprising new way of thinking about the mysteries of group behavior that challenges everything we thought we knew about radical breakthroughs. Safi Bahcall is the author of Loonshots: How to Nurture the Crazy Ideas that Win Wars, Cure Diseases, and Transform Industries (St. Martin's Press, March 2019), which has been selected for Washington Post's "10 Leadership Books to Watch for in 2019," Inc.'s "10 Business Books You Need to Read in 2019," and Business Insider's "14 Books Everyone Will Be Reading in 2019." About SXSW: SXSW dedicates itself to helping creative people achieve their goals. Founded in 1987, SXSW is best known for its conference and festivals that celebrate the convergence of the interactive, film, and music industries. An essential destination for global professionals, the event features sessions, showcases, screenings, exhibitions, and a variety of networking opportunities. SXSW proves that the most unexpected discoveries happen when diverse topics and people come together. SXSW 2019 takes place every March in Austin, Texas. Subscribe: Connect with SXSW: Website: Facebook: Twitter: Instagram: YouTube:
Featuring
Award-Winning Physicist, Biotech Entrepreneur, and Author of Loonshots
In his instant Wall Street Journal bestselling book Loonshots, SAFI BAHCALL reveals a surprising new way of thinking about innovation and group dynamics, challenging everything we thought we knew about radical breakthroughs. In talks based on his book—which Nobel Laureate Daniel Kahneman calls "Not to be missed by anyone who wants to understand how ideas change the world"—Bahcall shows how we can stoke innovation, create better leaders, and support "loonshots": the imperfect but ingenious ideas that have the potential to change the world. As a consultant at McKinsey & Company, and co-founder and CEO of Synta Pharmaceuticals, Safi Bahcall spent nearly two decades of his life bringing big, innovative ideas to fruition. Frequently, this meant assessing and developing loonshots—the widely dismissed ideas whose champions are often written off as crazy. Along the way, he noticed the obstacles that innovators came up against, which seemed to stem from "the mysteries of group behavior." As he dynamically explains in his book Loonshots, small changes in the structure of a company, rather than in its culture, can transform the behavior of the distinct groups involved, allowing innovation to flourish. Already a Wall Street Journal bestseller, Loonshots was recently dubbed a must-read "for people and organizations who are trying to increase their ability to catalyze more innovation" by Forbes magazine. In his talks, Bahcall shows how the science of phase transitions—think water becoming ice—suggests a useful new way of nurturing radical breakthroughs. He explains the mystery of why good teams—even those with excellent people and the best intentions—can kill great ideas. With humor, history, and a dash of physics, Bahcall offers audiences the tools to become initiators of innovative surprise rather than witnesses to it.