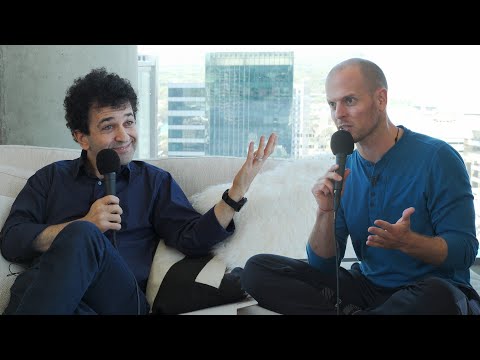 description
Watch the full interview with Safi here: SUBSCRIBE: About Tim Ferriss: Tim Ferriss is one of Fast Company's "Most Innovative Business People" and an early-stage tech investor/advisor in Uber, Facebook, Twitter, Shopify, Duolingo, Alibaba, and 50+ other companies. He is also the author of five #1 New York Times and Wall Street Journal bestsellers: The 4-Hour Workweek, The 4-Hour Body, The 4-Hour Chef, Tools of Titans and Tribe of Mentors. The Observer and other media have named him "the Oprah of audio" due to the influence of his podcast, The Tim Ferriss Show, which has exceeded 400 million downloads and been selected for "Best of iTunes" three years running. Connect with Tim Ferriss: Sign up for "5-Bullet Friday" (Tim's email newsletter): Visit the Tim Ferriss PODCAST: Visit the Tim Ferriss BLOG: Follow Tim Ferriss on TWITTER: Follow Tim Ferriss on INSTAGRAM: Like Tim Ferriss on FACEBOOK:
Featuring
Award-Winning Physicist, Biotech Entrepreneur, and Author of Loonshots
In his instant Wall Street Journal bestselling book Loonshots, SAFI BAHCALL reveals a surprising new way of thinking about innovation and group dynamics, challenging everything we thought we knew about radical breakthroughs. In talks based on his book—which Nobel Laureate Daniel Kahneman calls "Not to be missed by anyone who wants to understand how ideas change the world"—Bahcall shows how we can stoke innovation, create better leaders, and support "loonshots": the imperfect but ingenious ideas that have the potential to change the world. As a consultant at McKinsey & Company, and co-founder and CEO of Synta Pharmaceuticals, Safi Bahcall spent nearly two decades of his life bringing big, innovative ideas to fruition. Frequently, this meant assessing and developing loonshots—the widely dismissed ideas whose champions are often written off as crazy. Along the way, he noticed the obstacles that innovators came up against, which seemed to stem from "the mysteries of group behavior." As he dynamically explains in his book Loonshots, small changes in the structure of a company, rather than in its culture, can transform the behavior of the distinct groups involved, allowing innovation to flourish. Already a Wall Street Journal bestseller, Loonshots was recently dubbed a must-read "for people and organizations who are trying to increase their ability to catalyze more innovation" by Forbes magazine. In his talks, Bahcall shows how the science of phase transitions—think water becoming ice—suggests a useful new way of nurturing radical breakthroughs. He explains the mystery of why good teams—even those with excellent people and the best intentions—can kill great ideas. With humor, history, and a dash of physics, Bahcall offers audiences the tools to become initiators of innovative surprise rather than witnesses to it.