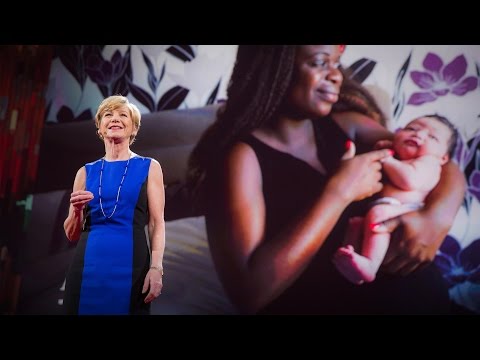 description
Sue Desmond-Hellmann is using precision public health — an approach that incorporates big data, consumer monitoring, gene sequencing and other innovative tools — to solve the world's most difficult medical problems. It's already helped cut HIV transmission from mothers to babies by nearly half in sub-Saharan Africa, and now it's being used to address alarming infant mortality rates all over the world. The goal: to save lives by bringing the right interventions to the right populations at the right time. TEDTalks is a daily video podcast of the best talks and performances from the TED Conference, where the world's leading thinkers and doers give the talk of their lives in 18 minutes (or less). Look for talks on Technology, Entertainment and Design -- plus science, business, global issues, the arts and much more. Find closed captions and translated subtitles in many languages at Follow TED news on Twitter: Like TED on Facebook: Subscribe to our channel:
Featuring
Former CEO, Bill & Melinda Gates Foundation
Fees
Local:

$35,001 - $55,000*

US East:

$75,001 and up*

US West:

$55,001 - $75,000*

Europe:

$75,001 and up*

Asia:

$75,001 and up*
With a medical, scientific, and philanthropic career that spans more than 30 years, Dr. Sue Desmond-Hellmann has devoted her life to improving the human condition through innovation. Most recently, she was the CEO of the Bill & Melinda Gates Foundation, leading the organization's vision for a world where every person has the opportunity to live a healthy, productive life. She was formerly the first female chancellor of University of California at San Francisco and spent 14 years at biotech firm Genentech, leading the development of a number of breakthrough medicines. An innovator and leader in life sciences, Dr. Desmond-Hellmann's diverse training as an oncologist, scientist, and business executive leads to her endless curiosity about the world and her desire to change it for the better. In speeches, she shares her unique insights not only on revolutionizing global health, but also on effective and innovative leadership. Using lessons-learned as a trailblazing female leader of one of the world's largest philanthropies, Dr. Desmond-Hellmann inspires audiences with her unparalleled perspective on how to foster an environment of collaboration and relentless innovation to drive disruptive solutions that make an impact.