Spymaster's Prism: The Fight Against Russian Aggression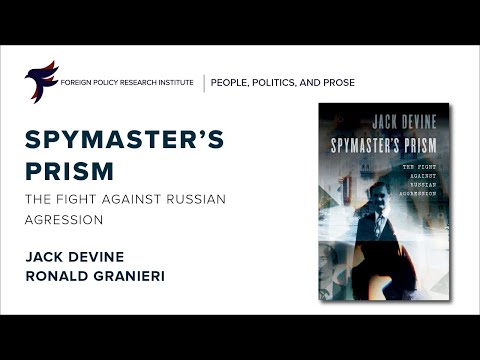 description
How has the continuing work of Russian intelligence agencies impacted U.S.-Russian relations? In this month's installment of People, Politics, and Prose with Ronald Granieri, we will be joined by former spymaster and author Jack Devine to speak about his new book, Spymaster's Prism: The Fight Against Russian Aggression. Granieri and Divine will examine lessons from both our intelligence successes and our failures over the past seventy-five years. They will also discuss how to address our current strategic shortfall, emerge ahead of the Russians, and be prepared for whatever's to come from any adversary. People, Politics, and Prose with Ron Granieri features in-depth conversations with authors of recent books on international affairs and national security. Moderated by FPRI's Ronald J. Granieri, each session will build on the book's contents to discuss the author's influences and motivations, relating everything to current events to elicit a broader understanding of the geographical, political, and historical context of our contemporary world. To purchase Mr. Devine's book, please visit: Jack Devine is a founding partner and President of The Arkin Group LLC, which specializes in international crisis management, strategic intelligence, investigative research, and business problem-solving. He is a 32-year veteran of the Central Intelligence Agency. Mr. Devine served as both Acting Director and Associate Director of CIA's operations outside the United States from 1993-1995, where he had supervisory authority over thousands of CIA employees involved in sensitive missions throughout the world. In addition, he served as Chief of the Latin American Division from 1992-1993 and was the principal manager of the CIA's sensitive projects in Latin America.
Featuring
Former Spymaster and Acting Deputy Director of Operations at the CIA and Author of the New York Times Best-Seller Good Hunting
Fees
Local:

$10,001 - $20,000*

US East:

$10,001 - $20,000*

US West:

$20,001 - $35,000*

Europe:

$20,001 - $35,000*

Asia:

$35,001 - $55,000*
Jack Devine, who served as head of all CIA spying operations, is the author of the New York Times best-seller Good Hunting: An American Spymaster's Story. No one is better poised to talk about what's going on in the world than the man who studied and spied on these entities his entire life. Whether offering a hard-hitting look at current affairs or an entertaining after-dinner speech about his own life, his presentations are full of cool stories, gripping intrigue, and high-stakes maneuvering. With a keen sense of humor and a sharp wit, his is an unprecedented look into the world of the CIA.