Success Tips: How to Ace the Interview - Raising Your Hand For Opportunities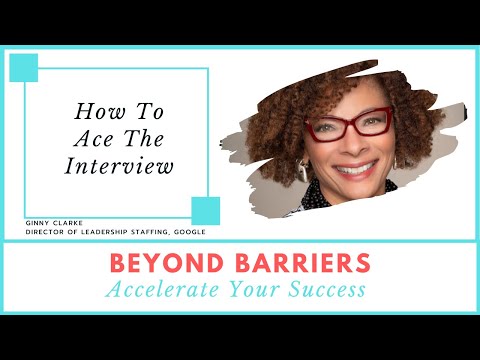 description
In this video, holistic leadership strategist, Ginny Clarke, speaks on interviewing for new opportunities where female professionals may not necessarily check off all the boxes of the job description. Some of her tips include getting out there because that's how confidence is built and emphasizing the importance of fostering networking and relationships. Clarke believes that competencies trump experience - you should be in a position to say to the hiring manager, "you're looking for this kind of experience, I don't have that exactly, but I want to say that I'm 80% there because I have demonstrated these competencies in a different context that's related and I might have done this other thing over here that's more closely related."
Prior to Google, Clarke was a partner at Spencer Stuart, the global executive search firm based in Chicago. For 12 years, she worked in the firm's financial services and financial officer practices, and co-founded and led their global diversity practice. Drawing upon her breadth and depth of experience, Clarke wrote the book titled Career Mapping: Charting Your Course in the New World of Work, providing a framework that empowers individuals to plot and assess their professional competencies and strategically navigate their careers. After the book was published, she ran her own executive search and talent management firm for three years before becoming a senior partner for executive search in the U.S. at Knightsbridge, a Canadian human capital solutions firm.
Featuring
Former Director, Executive Recruiting at Google and Holistic Leadership Strategist
Fees
Local:

$20,001 - $35,000*

US East:

$20,001 - $35,000*

US West:

$35,001 - $55,000*

Europe:

$35,001 - $55,000*

Asia:

$55,001 - $75,000*
Dedicated to creating the conscious workplace for tomorrow, Virginia "Ginny" Clarke is a seasoned executive recruiter who has advised at the highest levels of corporate America for decades. A proven expert in driving diverse leadership, she is the former director of executive recruiting at Google, where she led the company's diversity, non-tech recruiting, and leadership internal mobility teams – finding and hiring senior leaders across the company. She also built a scaled internal mobility program for Google's senior leaders and designed much of the infrastructure that supports their executive recruiting function today. In speeches, Clarke draws on her unparalleled experience assessing thousands of executives inside corporate C-Suites and boardrooms to bring a unique, holistic five-dimensional approach to true leadership that is essential now more than ever. She delivers "no-holds-barred" discussions on the root causes that lead to a lack of diversity in organizations, and provides the integrated solutions that anyone can use to affect change.