Victoria Arlen: Face It. Embrace It. Defy It. Conquer It | TEDxAmoskeagMillyard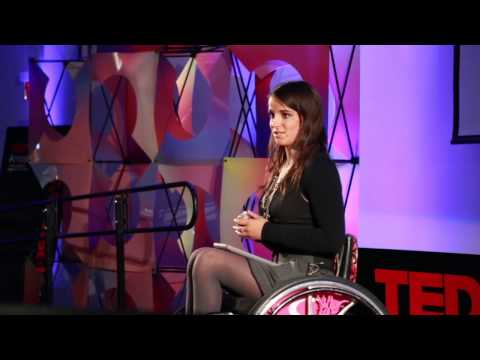 description
In this video, paralympic gold medalist, Victoria Arlen, shares how she has come a long way from her 3-year coma, which kept her fighting for her life unable to communicate with her family. In this talk, Victoria talks about determination, revival and relearning the basics of human existence. The theme was mindset, the mental attitudes that impact our choices and actions, ultimately influencing our results. From conquering fear to changing perspectives, Arlen explores the many ways outlook, emotions, and beliefs affect our mindset. Arlen also investigates how the mindset we cultivate shapes our path, impacts our organizations, and has the potential to transform our communities. 
At the age of eleven, Victoria Arlen developed two rare neurological conditions, transverse myelitis and acute disseminated encephalomyelitis, which left her in a vegetative coma for 4 years and unable to use her legs for nearly a decade. However, she went on to win a Gold Medal and three Silver Medals in the London Paralympic Games for swimming as well as multiple World, American, and Pan American Records. Arlen is an on-air TV personality for ESPN, reporting for the X-Games, the Invictus Games, and SportsCenter, and was a 2017 semi-finalist on ABC's Dancing with the Stars, and has since made many more major media appearances, including on The Ellen DeGeneres Show, and in People Magazine, among others.
Featuring
ESPN On-Air Personality, Paralympic Gold Medalist, & World Record Holder
Fees
Local:

$20,001 - $35,000*

US East:

$20,001 - $35,000*

US West:

$20,001 - $35,000*

Europe:

Please Inquire

Asia:

Please Inquire
Victoria was 11 years old when she came down with a rare viral disease, Transverse Myelitis, with which she battled for five years including four years in a vegetative coma. The disease left her without the use of her legs for nearly a decade. A lifelong swimmer and athlete, Victoria never gave up her childhood dream of competing in the Olympics Games. In June of 2010 she returned to the pool for the first time since her illness and in the spring of 2012 she qualified for the London Paralympic Games in four events. There she won a Gold Medal, and three Silver Medals. Despite missing five years of school during her illness, Victoria graduated on-time with her triplet brothers, from Exeter High School (New Hampshire) in June of 2013. Victoria is now an on-air TV personality with ESPN reporting for numerous programs including X-Games, Invictus Games, The ESPY Awards, espnW, Frozen Four, Special Olympics World Games and Sportscenter.