Dr. Freda Lewis-Hall interviews Dr. Anthony S. Fauci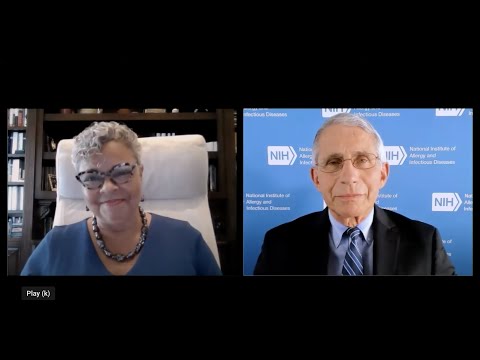 description
In this video, Dr. Freda Lewis-Hall, former Chief Medical Officer at Pfizer, interviews NAIAD Director Dr. Anthony S. Fauci. They discuss his extensive career, accolades, and COVID-19. Dr. Anthony S. Fauci is the 2020 recipient of the FNIH's Charles A. Sanders, M.D., Partnership Award for his legacy of leadership and ongoing support of FNIH programs propelling research in lethal infectious diseases. The award was presented via the online celebration of the 2020 FNIH awards. 
Most recently at Pfizer, Inc, Dr. Lewis-Hall served more than ten years on the executive leadership team as executive vice president, chief medical officer, and later chief patient officer. Her tenure at Pfizer was devoted to ensuring the safe, effective, and appropriate use of medicines and vaccines produced by the pharmaceutical giant, from the first clinical trial to its last use.
Featuring
Life Sciences Leader, Former EVP, Chief Medical Officer, & Chief Patient Officer at Pfizer, Inc.
Fees
Local:

$20,001 - $35,000*

US East:

$20,001 - $35,000*

US West:

$20,001 - $35,000*

Europe:

$35,001 - $55,000*

Asia:

$55,001 - $75,000*
A pioneer in medicine and leadership, Dr. Freda Lewis-Hall has been on the frontlines of healthcare for more than four decades as a clinician, researcher, and leader in the biopharmaceuticals and life sciences industries. Dr. Lewis-Hall is an incredible storyteller with a flair for well-timed humor who shares with audiences her powerful story and inspiring path to becoming a leader in the healthcare industry. Her talks motivate audience members to embrace pressure and determine their own destinations, just as she did on her path to being the first in her family to attend college, becoming a physician and, subsequently, a biopharmaceutical executive. Dr. Lewis-Hall's message of perseverance, tenacity, equity, inclusion, and transparency is one that resonates with all audiences and diverse backgrounds.